HOME (Restless Music)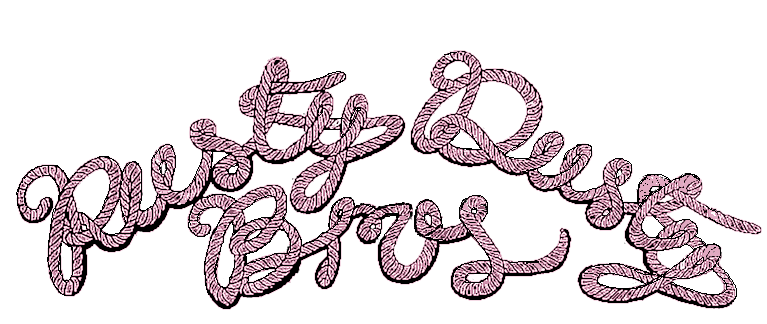 RUSTY DUSTY BROS TIMELINE
(from the Collective Memory)

Sydney-based country rock band, Rusty Dusty Bros. was formed in 1975 from members of Sydney folk bands, Meadowband and Southern Road Band, and country rock band, Brumby . Between 1975-1978, Rusty Dusty Bros. played more than 150 gigs, recorded tracks at ABC, Alberts and Trafalgar Studios, and were one of the first bands to play Live-to-Air Concerts on the newly-formed ABC Radio station, 2JJ (now Triple J) on October 12, 1976, and February 8, 1977.
Early Years: Joe Cannon & Peter Garrety (vocals/acoustic guitars/mandolins) formed Meadowband as a duo in March 1972.
Their first gig was on 11th March, 1972 at the Wesley. Briefly there was a bass player called Mitch.
See Pic #1.
Roger Ilott (guitar/vocals - Paul Pulati & Brumby /ex Southern Road Band) joined in May 1974.
Roger's first gig with the band was on June 8, 1974 at the Elizabeth Folk Club.
Roger is in Pic #2
Jed Hudson (bass/vocals - Paul Pulati & Brumby /ex Johnny O'Keefe /ex Haw Creek) played five gigs with the band etween August-October 1974.
Neil Porter (bass - ex Maristique ) joined in September 1974. (see Pic #3 )
Neil's first gig with Meadowband was at the Kirk Gallery Press Reception October 22, 1974.
Pic #1

Meadowband (Joe & Peter) recording at Kirk Gallery, Surry Hills, 1973

Pic #2

Meadowband 1974
L-R Roger, Peter, Joe

Pic #3

Meadowband at
Sultry City
Standing: Roger, Neil, Peter
Seated: Warren Baker, Joe

Pic # 4
Meadowband - Joe, Roger, Neil, Peter & new drummer, Warren
SOME OF THE MORE MEMORABLE GIGS 1973-1975
Residencies at The Saddlery, Grand National Hotel
Regular gigs at Kirk Gallery, Cellar Folk, Balmain Folk
9th August,1974 with Ross Ryan & Marian Henderson at Wollongong Town Hall
15th October,1974 with Julie Felix at Wollongong University
17th May,1975 with Split Enz at Bondi Lifesaver
27th May,1975 with Don Burrows & George Golla at Wollongong University
Warren Sparke (drums - Paul Pulati & Brumby /ex Melissa /ex Haw Creek) joined in December 1974.
Warren first played with the band at Lane Cove Town Hall, on February 14, 1975. Warren is in Pic #4
Brian Funnell was the sound engineer and took many of the photographs of the band. Al Hickey was the main roadie during the early days.
Re-Naming: In October 1975, Meadowband was renamed Rusty Dusty Bros. after a night of hilarity at bass player, Neil's house. The first gig as RDB's was the Wollombi Bachelor & Spinster's Ball on November 7, 1975.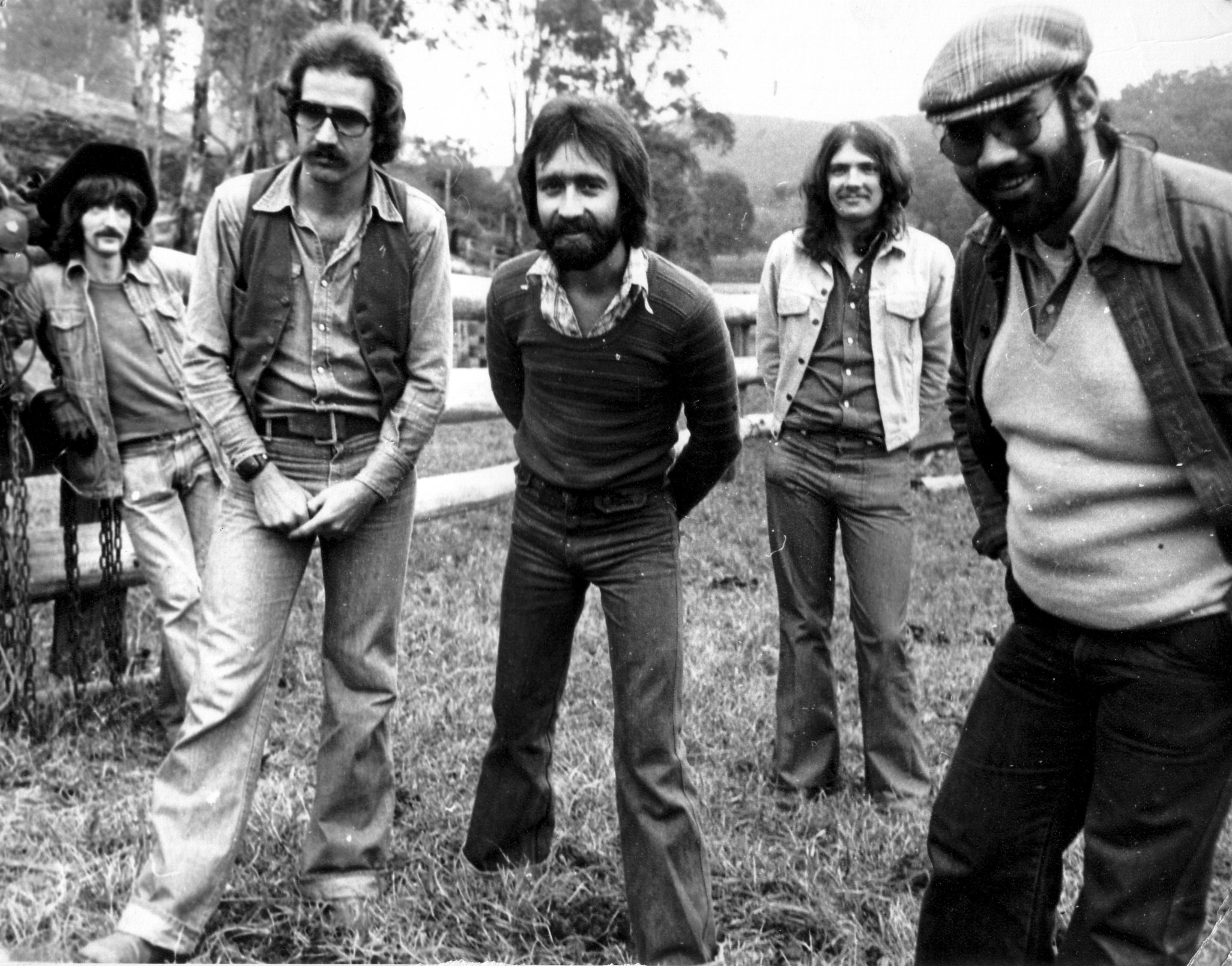 In March 1976 Jed Hudson joined, replacing Neil Porter on bass. Jed's first gig was at the Fiddlers Vine, Cronulla, on March 13, 1976. The band was photographed by Brian Funnell in a series of iconic shots taken out at St Albans.
Photo at left shows Roger, Jed, Warren, Peter and Joe. They were to perform and record together (until Jed left to pursue his Qantas career in May, 1977).
Among the gigs this much loved Sydney band did during that time was a long residency at the Limerick Castle in Surry Hills, Sydney, which cemented the band's sound and direction. Rusty Dusty Bros. developed a strong following. Among the followers were various broadcasters from the new ABC radio station, 2JJ. Rusty Dusty Bros. performed Live-To-Air concerts on 2JJ on October 12, 1976, and February 8, 1977.
In May, 1976, Rusty Dusty Bros. recorded tracks for broadcast at ABC Studio 221 with sound engineers Neal Sandbach and Mark Kennedy. Neal Sandbach subsequently became manager of the band. Further recording took place at Albert's Studios in August, 1976, again with Neal Sandbach at the desk.
In addition to the 2JJ Live-to-Air Concerts, gig highlights through this period include a 2JJ Concert in Parramatta Park with Buffalo & Madam Lash, supports for U.S. performer, Country Joe MacDonald, and Australian bands Midnight Oil, The Angels and Air Supply.


In April, 1977, two tracks were recorded for a possible single release at Trafalgar Studios with Michael Carlos (Tully) producing, and Charles Fisher engineering.

Some of these tracks have been made available on an archival release Rusty Dusty Bros. The 1976 Studio Sessions (Restless Music RM124-1) and is available for download from CDBABY.
Jed Hudson's final gig with the band was at Cronulla Leagues Club on May 12, 1977. After that several bass players were tried – including Brian Bethell (Richard Clapton Band) Wayne Lanham (ex Australia/ex Copperwine) before Alan West joined. Howard Jones was the Road Manager through the last phase of the band.
Rusty Dusty Bros. was renamed Radar in March, 1978 for the final gigs at the Paris Theatre and Balmain Town Hall (with The Sports ).
Recording: Demos recorded at Kent St Rehearsal Rooms in February & April 1975.
Engineer: Brian Funnell. Recording at ABC Studios, May 16, 18, 20, 27, 1976. Engineers: Neal Sandbach, Mark Kennedy. Neil Sandbach became band's Manager. Recording at Albert Studios, August 1976. Producer/Engineer: Neal Sandbach Recording at Trafalgar Studios, May 1977. Producer: Michael Carlos Engineer: Charles Fisher.
SOME OF THE MORE MEMORABLE GIGS 1975-1977
Residencies at Limerick Castle, Surry Hills, Fiddlers' Vine, Cronulla, Tiger Lil's Wine Bar, Glebe.
Regular gigs: French's Tavern, Roxy
18th July, 1976 Parramatta Jail
12th October,1976 2JJ Live-to-Air Concert in Studio 221
7th November,1976 2JJ Concert with Buffalo and Madame Lash in Parramatta Park
8th August,1977 2JJ Live-to-Air Concert in Studio 221
23rd March,1977 with Air Supply at Bondi Lifesaver
1st April,1977 with Country Joe McDonald at the Elizabethan Theatre, Newtown
14th April, 1977 with Air Supply at the Belmont 16' Sailing Club
6th May, 1977 with Midnight Oil at Manly Vale Hotel
7th May, 1977 with The Angels at Manly Vale Hotel
THOUGHTS & WORDS Spring, 2017
Meadowband and the Rusty Dusty Bros were wonderful experiences of growth and change for me, as we figured out how to develop from acoustic music into country rock and beyond. Definitely the most fun I've had in any of the bands I've played with. I look back upon those days now with great fondness.
Peter Garrety
? Ten years, 1973 to 1983, wide eyed, fantastic times with a brilliant family of friends and musicians, every one a rare, crazy, treasured gem. From Dylan to Disco there were broken hearts, broken strings, broken down, Broken Hill (well, Dubbo at least) and sadly, eventually, broken up. Forty "odd" years later and we all still call, talk, sing and play - sometimes even together and what more could you ask for? Huge thanks to those who also served, especially Jan and Margaret, sharing their homes, lives and shoulders while we were testing our early days limits and celebrating our first tiny (dance) steps. And to those we have lost also, along the way - memorable times and sad goodbyes. It was a great era of music and a great time to share a part of it in Australia.
Joe Cannon
RDBs were a major part of my life at the time. Some clear memories: the very first acoustic Meadowband audition and rehearsals and my first nervous gig at Kirk Gallery; loving the harmonies and Rog's palm pedal playing; dancing lessons at the Kirk Gallery; our "mini-tour" around Sydney venues with some interesting bands; being very happy when a drummer joined the band - Wal's still the (equal) best drummer that I've played with; rehearsals in our Kent St office, Chico rolls for lunch; playing and contributing to some great original music; opening for Split Enz at the Bondi Lifesaver; losing kilos playing at French's on the raised stage; my last RDBs gig at Fiddlers' Vine in Cronulla.
Neil Porter

Life with the RDBs was musically rewarding - being part of a punchy tight rhythm section was a hoot, playing original music (with the chance to create through arrangements) was exciting - and playing live was the ultimate trip. Pity disco (and the need to earn a living) fucked it up. Jed Hudson In a drumming career that just hit fifty years, I have worked with many bands and fine players. The Rusty Dusty Bros. put me in a playing zone that I have never recovered from; they ticked all the boxes. We were the duck's guts - very proud to have been part of them.
Warren Sparke

We set out to change the world, but in the process, through our experiences, end up changing ourselves. The times we shared in RDBs helped shape our lives. The gigs may become a blur, but the camaraderie we felt throughout the two phases of the band lives in our hearts and minds. We'll always be grateful to Jan & Neil and Margaret & Warren for their hospitality in these formative years, and to all the Bros. – thank you for the great music and memories.
Roger Ilott

WEBSITES:

FACEBOOK
CD BABY
YOUTUBE
MY SPACE
SONG ABOUT THE RD BROS

ALBUMS AVAILABLE FOR DOWNLOAD

1976 STUDIO SESSIONS - RUSTY DUSTY BROS
RHINOCEROS SESSIONS 1978-1978 - RESTLESS